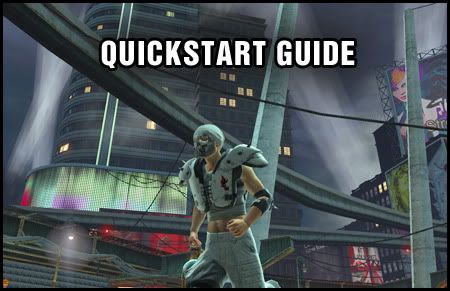 ---
INSTALLING THE GAME
---
Follow these steps and the setup prompts to install.
Step 1: If you have not already downloaded Crimecraft, go http://www.mayngames.com/games/download/crimecraft to choose from one of our download mirrors.
Step 2: Follow the prompts through the setup process.
Step 3: When installation is complete, run Crimecraft by double clicking the Crimecraft icon on your desktop.

---
GETTING STARTED
---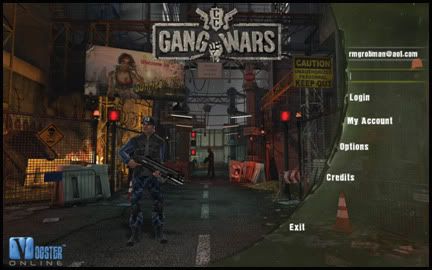 Step 1:
• From the launcher window, choose a server in the bottom right hand side of the screen (US or EU).
• If you have friends in Crimecraft that you would like to play with, find out which server they are on and choose it as your player server.
• Click Play when you are finished selecting your realm.
• After the opening sequence all players must log into the game by inputting their e-mail address and password.
Step 2:
All new Players are automatically taken to QUICKPLAY Mode where they can jump into PvP combat (Player vs. Player) by selecting "FIGHT" or PvE Combat (Player vs. Environment) by selecting "PRACTICE"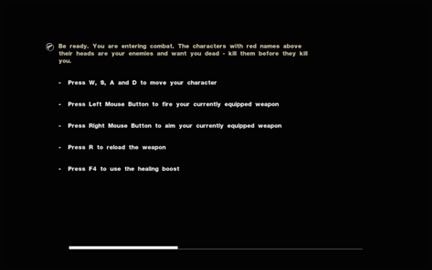 Step 3:
After pressing "FIGHT" the combat map will load. Basic Controls and Playmode type will be described before entering combat map.
For information for regarding movement of your player, visit the Combat Controls page.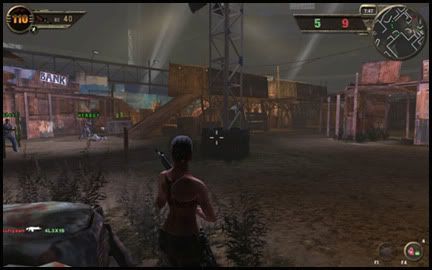 Step 4:
Player enters map and engage in Combat.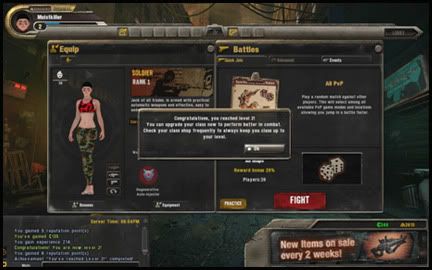 Step 5:
New Player's level up pretty quickly. Player will need to gain 6 levels of experience before the Lobbies open up to them (about 60 minutes of gameplay).
Note: Players will be able to gain experience and level up more quickly if they have a membership. Click here for more information.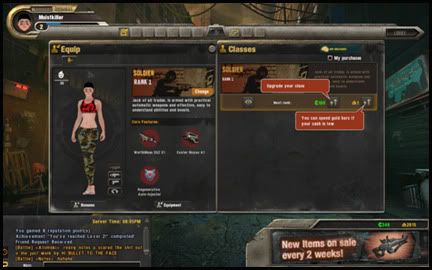 Step 6:
At level 2 new players can upgrade their class and then jump back into combat.
Step 7:
At level 3 PvP Playmode Selection becomes unlocked giving new players the ability to choose what types of playmodes they want to play.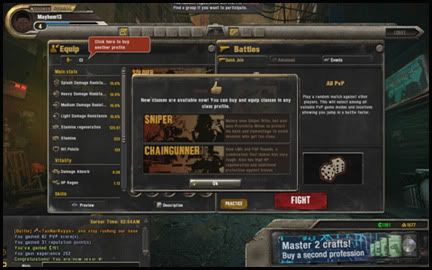 Step 8:
At level 4 new classes become available with unique weapons, gear and abilities.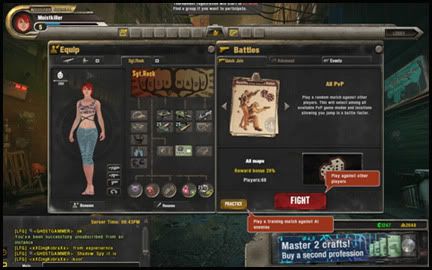 At level 5 custom profiles are unlocked and new players can build and customize their own characters. Once key components of the character are built as directed by game instruction, the Black Market is unlocked.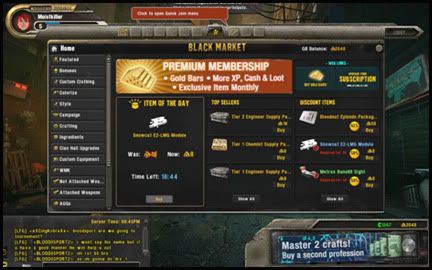 The Black Market provides countless items to customize and equip your character with. Players can also purchase bonus items that increase experience, stamina, and combat abilities.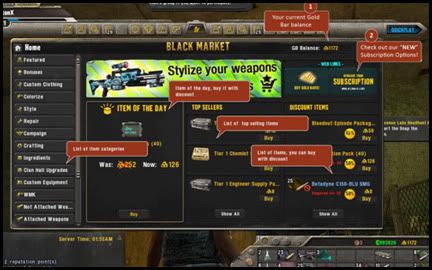 Step 10:
Once new players reach level six the lobby will become unlocked. Player's can now exit out of Quickplay Mode. The lobby light in the upper right is now active. Pressing the lobby button will take players to the lobby.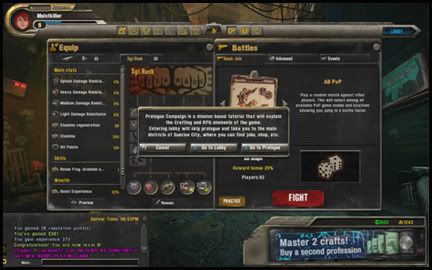 Step 11:
Players can cancel to stay in Quickplay Mode, go to the lobby, or go to the prologue campaign.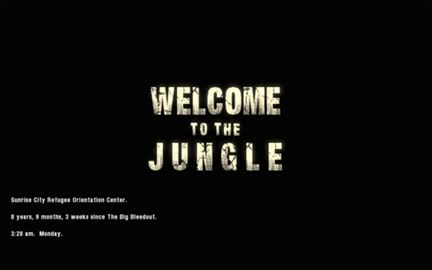 Step 12:
The prologue campaign will explain the RPG and crafting aspects of the game. The designers of Crimcraft recommend all new player experience the prologue campaign to learn the ins and outs of Crimecraft. Players will gain experience during the campaign.
Step 13:
At the end of the prologue campaign, all areas on the game open up to the player. The campaign lasts an average of about 90 minutes.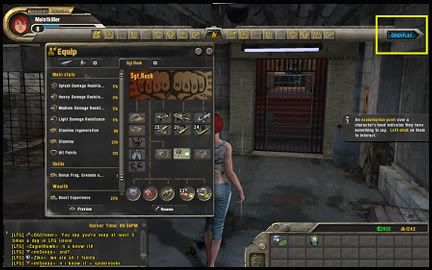 If the prologue campaign is not your thing, players can always select QUICKPLAY to return to regular PvP gameplay.
---
COLLECT EXCLUSIVE ITEMS
---
You may have received a free-gift as part of your pre-order. In order to claim these valuables, simply make your way to the nearest Sunrise City Mailbox. These mailboxes are found in every lobby, and are easily recognized by the envelope icon above them.
Left-click on the mailbox to open your mail and view your messages. On the left side of the screen, you'll see a list of your reward messages. Open each message, and click the Take All button on each message to receive your items.
---
For the latest info on updates and events, please visit our official community site: Link