Quickplay streamlines the entire user experience into a simple and easy process that allows new and veteran Players to jump into the action in a matter of seconds after logging into the game. Players can now access Crimecraft's combat, character customization, equipment shops and social features in an easy to use interface that lets Player's (if they so choose) to shortcut the more hard core RPG and crafting gameplay elements of Crimecraft in favor of pure shooting action.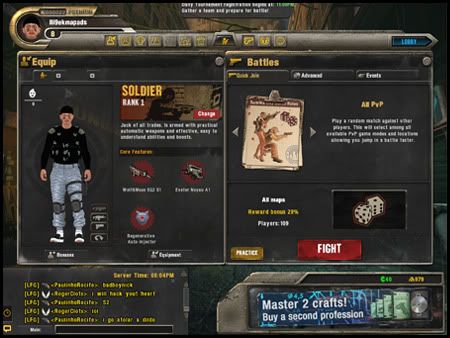 Only have 15 minutes? – Great. You're in the game shooting in seconds or if you prefer to take your time craft your own weapons, engineer your own boosts, tailor your clothes, and manage every nuance of your character, while exploring the nooks and crannies of Sunrise City.
Quickplay allows for Players of all styles, both casual and hard core to play the game they want to play. The game adapts to whatever your playstyle is. It's all there for you including switching back between the streamlined Quickplay experience and the fully featured Sunrise City with the click of a button.
More Information:
• New Players joining the game no longer start at tutorial. With our new matchmaking system they can join the intense shooting combat within a matter of seconds after logging into the game.
• Quickplay seamlessly guides the first time Player through the fundamentals of combat while they are having fun in PvP Combat.
• Players can play PvP and PvE via the Quickplay interface.
• Our new Match-making system provides for more balanced matches and quicker entry into matches. This means you enter combat fast and once there, you are matched against Players closer to your own skill level.
• The game gradually opens up to New Players as they gain experience, for example access to Sunrise City open up at level 8 (about an hour of play).
• If New Players want to learn how to craft, customize weapons, learn what the lobby has to offer, etc there is a campaign tutorial, which explains all the basic elements of the core game. However Players are not forced to play the tutorial, it can be easily bypassed.
• Quickplay gives Players access to everything the game offers including Character Customization, the Black Market Shops, Classes, Chat, Mail, Maps and access to Sunrise City (Lobby).