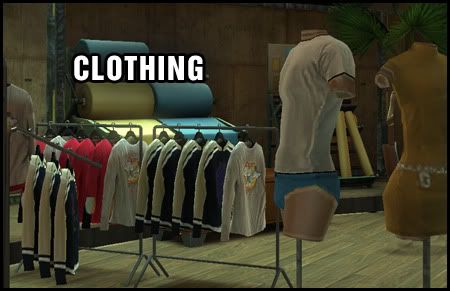 If you like to look good while showing your enemy you mean business, Sunrise City is full of high quality designer clothing. Because of modern technologies, however, clothing is not just for looks; instead, these items function to protect the player in battle or improve their combat prowess. Whether Tops, Bottoms, Sunglasses, Hats or Shoes, Sunrise City offers an array of styles and colors to choose from. Make your own gang colors, or have a style all your own!
Clothing does more than just add aesthetic appeal to characters, they act as armor, and give you resistance to enemy gunfire.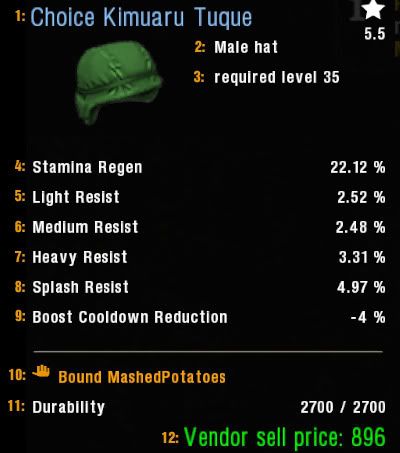 1: Name of Item and Rarity Level
Rarity is Shown by the color of the text:
2: Item Type and Gender
3: Required Level
4: Stamina Based Perks
Some clothing has stamina based perks that effect how long you can run.
5: Light Resistance
Resistance against bullets fired from SMGs, Shotguns, and Pistols.
6: Medium Resistance
Resistance against bullets fired from Assault Rifles.
7: Heavy Resistance
Resistance against bullets fired from LMGs, and Sniper Rifle, Rocket Launchers, and Grenade Launchers.
8: Splash Resistance
Resistance against explosives
9: Special Resistances and Perks
Some pieces of clothing have extra perks that can help you out in battle. Some examples are:

Lowering the time of Boost Cooldown
10: Bound Items
All clothing, once equipped, becomes bound to that character. This means that another player will not be able to wear that particular piece of clothing. Once an item is bound, it cannot be sent in the mail or traded to other players. It can only be sold to NPC vendors. Items that are bound can be unequipped and stored in your backpack or ATM for future usage.
11: Durability
All piece of clothing over time will wear down. It is your job to maintain your clothing as you play. There are two ways that you could do this:

NPC Vendor Repair: Once a player converses with an NPC vendor, the player can click on the wrench icon to open up the repair menu. Players are then able to repair their items. After a repair, the maximum amount of durability is lowered slightly.

Gold Bar Repair: In the Black Market, the player is allowed to use gold bars to repair their damaged items. Unlike the NPC Vendor Repair, the maximum amount of durability is not lowered while using the Gold Bar Repair.
12: Vendor Sell Price
---
Custom Clothing
Custom clothing is strictly used to change the appearance of you character. Custom clothing goes on over normal clothing items. The custom clothes are now bound to the clothing item, and all of the resistances and perks of the item is transferred. The custom clothing then acts just like the original item, and can be unequipped and stored.
Custom clothing can only be bought from the Black Market using Gold Bars.